&nbsp
telephone
(+39)0773.52.30.14
fax
(+39)06.233.234.260
e-mail
info@sinergroup.it
Meter a bright LED Digiflow 5000V monitoring liters Pre-set at 3.000 liters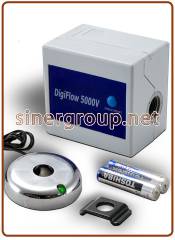 Informations
Code:
01001202-03
Weight:
0.2 Kg
Description
Meter a bright LED Digiflow 5000V monitoring liters Pre-set at 3.000 liters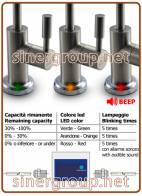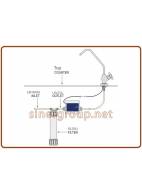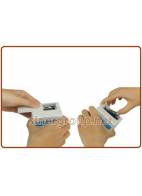 click on images to enlarge
Full description
Clear indicating of filter status
The DigiFlow 5000V incorporate an advanced microprocessor circuit and precision flow sensor to accurately monitor filter life. The double-color LED conveniently indicates the status of filter. A built-in audio device generates an alert alarm when the filter life reaches its end. No external power needed. The DigiFlow 5000V can be used with all kinds of under-sink water filters, including installed ones. The DigiFlow 5000V is powered by two AAA alkaline batteries which generally last for more than two years. A built-in semiconductor memory device automatically stores the last status when battery power runs out.

16 pre-set monitoring capacity options :
1000, 2000, 3000, 4000, 5000, 6000, 7000 and 8000 liters.

Remaining capacity indicating :
Green light blinks 10 times – 100% capacity remaining
9 times – 90% capacity remaining
…………………………………
1 time – 10% capacity remaining

End of life alert :
Red light blinks all the times and an addible alarm is generated when the remaining capacity is 0.
An audible alarm.