&nbsp
telephone
(+39)0773.52.30.14
fax
(+39)06.233.234.260
e-mail
info@sinergroup.it
Two-in-one dual cartridges 5 PP+GAC (25)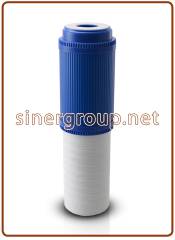 Informations
Code:
04008001
Weight:
0.25 Kg
Description
Two-in-one dual cartridges 5 PP+GAC (25)
Full description
Polypropylene Replacement, Cartridge for removal of: Sand, Silt, Dirt and Rust Particles.
GAC Replacement, Cartridge for removal of: odor and chlorine from water.
For water use only This cartridge fits most standard In-Line Filter Housing.
* Max Water temperature: 125°F (52°C)
* Micron Rating: 5 micron.
* Dimension: 2,5"x10"(60mmX 251 mm)
* Max pressure: 125 Psi (8,3 bar)
* Flow rate: 3lt./min.
* Service life: 1.587 gallons (6.000L) max. 1 year
Micron ratings is nominal. Installation and housing design can affect performance. This filter will not remove cysts, bacteria or viruses. Do not use where the water is microbiologically unsafe or with water of unknown quality without adequate disinfection before or after the unit. This cartridge will not remove chemicals or disinfect water. Gac installed upwards.
Bestsellers
Dual layer filters (sediment + carbon)
Most viewed
Dual layer filters (sediment + carbon)