&nbsp
telephone
(+39)0773.52.30.14
fax
(+39)06.233.234.260
e-mail
info@sinergroup.it
Ionicore Silver Coconut Carbon Block cartridge 2,5"x10" - 5 micron (20)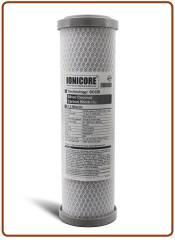 Informations
Code:
04004010-04
Weight:
0.35 Kg
Brand:
Ionicore Water Filters
Description
Ionicore Silver Coconut Carbon Block cartridge 2,5"x10" - 5 micron (20)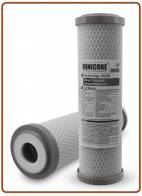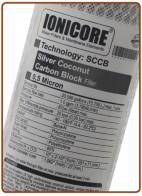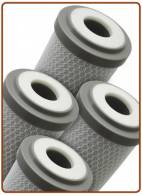 click on images to enlarge
Full description
This Coconut Carbon block are more than just ordinary carbon block filters.
There are 8 different carbon block formulations to meet your performance requirements.

This combination of high performance coconut carbon, unique binders and proprietary manufacturing process delivers exceptionally low pressure drop, high dirt holding capacity and excellent contaminant reduction.

The Silver Nano Technology Coconut Carbon Block Filter make it bacteriostatic so it remain hygienic for longer, it combines the special advantages of two technologies. Silver inhibits the growth of bacteria within the filter media bed. The filters fits standard 10 inch housings. The coconut activated carbon filter works by adsorption and physical screening of contaminants by collecting organic molecules and other substances on its porous surface, it consist of activated carbon particles fused into a uniform block with enhanced adsorptive capacity and efficiency.

Features:
- Unique binder system
- Superior adsorption capacity
- More carbon surface area
- Silver Nano Technology Coconut Carbon Block

Do not use with water that is microbiologically unsafe or of unknown quality without adequate disinfection before and after the system.
Nota bene: The contaminants or other substances removed or reduced by this drinking water system are not necessarily in your water.