&nbsp
telephone
(+39)0773.52.30.14
fax
(+39)06.233.234.260
e-mail
info@sinergroup.it
Ionicore BIG CAB carbon block cartridge 10" - 10 micron (12)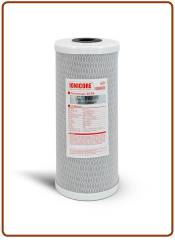 Informations
Code:
04006003
Weight:
1.7 Kg
Brand:
Ionicore Water Filters
Description
Ionicore BIG CAB carbon block cartridge 10" - 10 micron (12)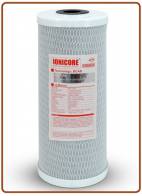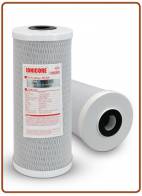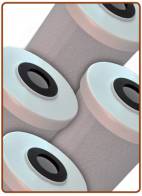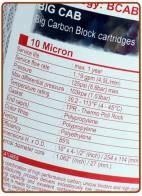 click on images to enlarge
Full description
The combination of high performance carbon, unique binders and high quality manufacturing process delivers exceptionally high dirt holding capacity, excellent contaminant reduction and low pressure drop. The carbon block cartridge is made by compressed extruded carbon, which allows it to have an high purity degree and good absorption capacity. It is ideal for single use or for reverse osmosis prefiltration, for the membrane protection. Suitable for removing unpleasant odors and taste from water, it improves the water organoleptic characteristics. The cartridges fits standard Big housings.

Application:
- Food and beverage.
- Bottled water production.
- Household water dispensers, water purification systems.
- Commercial water purification systems, drinking water systems.

Do not use with water that is microbiologically unsafe or of unknown quality without adequate disinfection before and after the system.
Nota bene: The contaminants or other substances removed or reduced by this drinking water system are not necessarily in your water.