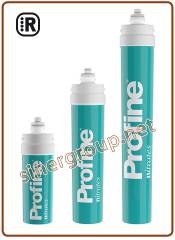 Informations
Code:
04400106-02
Weight:
0.25 Kg
Brand:
Profine Water Filters
Mfr. Code:
Y21439B
Description
Profine NITRATES medium antimicrobial replacement filter 1.400lt. - 1,5lt./min 0,5 micron (6)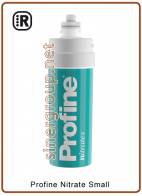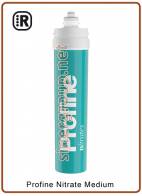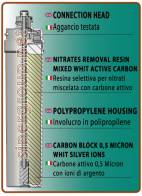 click on images to enlarge
Full description
Reduces concentration of nitrates in drinking water. Carbon block filtration, antimicrobial 0.5 micron with selective resin for nitrates, mixed with active carbon.
Profine® NITRATES remove odor and taste. The disposable filter is made of with extruded carbon block technology and silver for a bacteriostatic action.

Removes taste and odor, chlorine, dirt, rust, suspended material not visible to the naked eye, mold and algae. Nitrates reduction with strong anionic macroporous resin, for drinking water with a concentration of nitrates max 50 mg/l.

* Ideal for drinking and cooking in maximum safety.
* Improve taste of beverages, sparkling water and post-mix systems.
* Protect from clogging, corrosion and wear.
* No electrical connection required.
* Vertical installation with filter head "R" type.
* The filter is easy to install and replace without use of special tools.

Profine NITRATES range with antimicrobial protection inhibits any potential bacterial growth.

Features:
* Chlorine reduction
* Nitrates reduction
* Bacteriostatic
* Reduction of particulate in suspension

• Technology: Multistage, Carbon Block (CB)
• Micron rating: 0,5 micron
• Service life: depending to the model, see table.
** Capacity varies according to:
* Inlet water quality
* Required flow rate
* Inlet water pressure
* Filter use (continuous or intermittent)

• Filter dimensions: HxD (mm.) SMALL 269x87,4(mm.) - 10,59"x3,44"(In.)
• Filter dimensions: HxD (mm.) MEDIUM 384x87,4(mm.) - 15,11"x3,44"(In.)
• Filter dimensions: HxD (mm.) LARGE 529x87,4(mm.) - 20,82"x3,44"(In.)
(Leave a vertical space of about 7 cm under filter to allow replacement).
• Activation: it is advisable to run water through filter at maximum pressure and full flow rate, for at least 5 minutes to allow air purging and flushing of cartridge.
• Filters change: When capacity is reached, or when flow comes too slow (precipitates under 0.7bar/10psi), every 6 months but at least annually.

Do not use with water that is microbiologically unsafe or of unknown quality without adequate disinfection before and after the system. Systems certified for the contaminants reduction may be used with disinfected water that may contain filterable pollutants. All systems must be maintained according to producer instructions.
Note: The contaminants or other substances removed or reduced by this drinking water system are not necessarily in your water.