&nbsp
telephone
(+39)0773.52.30.14
fax
(+39)06.233.234.260
e-mail
info@sinergroup.it
Filtermax self cleaning filter 3/4" - 80 micron
Informations
Code:
04104101-01
Weight:
0.6 Kg
Description
Filtermax self cleaning filter 3/4" - 80 micron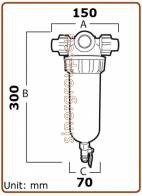 click on images to enlarge
Full description
Manual washable filter with stainless steel filtering mesh (80 micron). Installation system designed for an horizontal tube. Manual blow-off valve at the bottom. (3/8" thread connector 3/8" tube.) Inlet pressure gauge included. Plastic support and accessories for wall mounting. Housing wrench. It includes an indicator to show the last month it was cleaned. Specification: Connections: * Inlet/Outlet 3/4" M. thread. * Temperature (max./min.): 40°C. / 1°C. * Pressure: (max./min.) 10bar / 1bar * Maximum flow: 4200 l./h.