&nbsp
telephone
(+39)0773.52.30.14
fax
(+39)06.233.234.260
e-mail
info@sinergroup.it
Ionicore Far-infrared mineral ball post osmosis in line filter 1/4" FPT 2"x10" (25)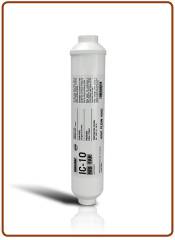 Informations
Code:
07004002
Weight:
0.5 Kg
Description
Ionicore Far-infrared mineral ball post osmosis in line filter 1/4" FPT 2"x10" (25)
click on images to enlarge
Full description
The water passes through the infrared filter has a very positive impact on human health because of the activity of somatic cells, improves blood circulation and speeds up the metabolism.

Specifications:
- In line filter 2"x10".
- In-Out: 1/4" NPT.
- High pressure:125 psi.
- Max flow: 0,6 gpm.

Beneficial effects on humans.
- Active the water molecules in our body.
- Improve the level of oxygen in our body.
- Remove grease, chemicals, toxins from our blood and this facilitates the flow of blood.
- Reduces the level of acidity in our body.
- Improving the functions of our nervous system.

The granules bio-ceramics inside are produced with different kinds of ceramic mixed with mineral oxides such as silicon oxide (SiO2), aluminum oxide (Al2O2), etc.. Mixing of these materials emits FIR (infrared).
Far infrared mineralized is made of 26 types of ceramic with various mineral oxides and heated together at 1600 ° C and quickly cooled.
After cooling this bio-ceramic gets the ability to emit infrared rays.

FIR (infrared) are also used to:
- Prevention of bacteria.
- Water softening.
- Eliminate odors in water.
- Air Purification.
- Balanceof the acid level in your body.
- Normalization of blood cholesterol.
- It keeps the body young.
- Help plants grow better.
Bestsellers
Post osmosis mineral In line filters