&nbsp
telephone
(+39)0773.52.30.14
fax
(+39)06.233.234.260
e-mail
info@sinergroup.it
Green Filter classic granular activated carbon in line filter (GAC) 1/4" FPT 2,5"x11" (20)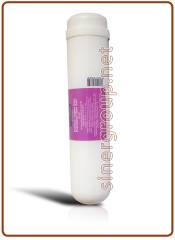 Informations
Code:
07002011
Weight:
0.15 Kg
Description
Green Filter classic granular activated carbon in line filter (GAC) 1/4" FPT 2,5"x11" (20)
click on images to enlarge
Full description
Carbon prefilter, taste and odor reduction.
Service life: 1 year - 2.000 gal. - 7.560 liters
Maximum flow: 0,5 gpm - 1,9 lt/min.
Maximum pressure: 125 psi - 8,6 bar
Maximum temperature: 100°F - 38°C
Minimum temperature: 40°F - 4°C
Do not use with water that is microbiologically unsafe or of unknown quality without adequate disinfection before or after the system.