&nbsp
telephone
(+39)0773.52.30.14
fax
(+39)06.233.234.260
e-mail
info@sinergroup.it
WPP105M wound polypropylene cartridge 20" - 1 micron (25)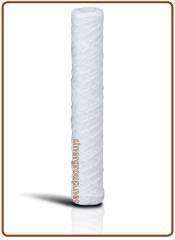 Informations
Code:
04001005
Weight:
0.15 Kg
Description
WPP105M wound polypropylene cartridge 20" - 1 micron (25)
Full description
The manufacturing procedure is founded on the wrapping of an appropriate polypropylene yarn on a inner bored support (core OD28mm), that produces a particular honeycomb texture that consents to obtain on the filtration mass section some spiral micropass and funnel micro-pass. Yarn Wound Filters are a cost effective solution for the reduction
of sand, silt, rust, dirt & scale particles. Max temperature: 80°.